Next Round: A Young Athlete's Journey to Gold Reviews
Booklist
"The rise of Arthur Biyarslanov, known as the Chechen Wolf, and his journey from refugee to soccer star to Olympian are chronicled in a narrative biography that is both inspirational and timely. Opening with the Biyarslanov family's flight from Chechnya in a sequence that could be straight out of a movie, the book draws the reader's attention almost immediately….Eventually, young Arthur and his family end up in Canada, where he hones his soccer skills, until a broken leg sets him on the path to boxing. Biyarslanov's sheer grit, determination, and hard work lead him all the way to the Olympics in Brazil. Photographs are scattered throughout and show his transition from Chechnya to Canada, from child to young adult. The story itself moves quickly and descriptively; soccer games and boxing bouts, for example, pop from the page. A sure hit for readers looking for a sports biography or a story of triumphing over difficulties."
—Erin Linsenmeyer
School Library Journal
"Gr 4-8–An intense opening scene: on one side of a bridge, hardened Russian soldiers, on the other, a young Arthur Biyarslanov with his family and 120 other Chechen refugees, hoping to cross through Dagestan to reach Azerbaijan. This biography follows the future Pan-Am Gold Medalist and Olympic hopeful as he fled Chechnya; sought refuge in Baku, Azerbaijan; and finally settled in Toronto, Canada. A gifted athlete, Biyarslanov helped to settle this tumultuous childhood by focusing on sports—first soccer, then boxing. This title has the same emphasis, telling the stories of his athletic achievements in simple, easy to read prose. Spray does well to provide context for young Biyarslanov's reputation as the 'Chechen Wolf,' a fearless fighter (his at-times aggressive behavior is attributed to his father's death, his experience with the Russian soldiers, and being forced into poverty). Larger, outside conflicts (such as why he, his family, and others were forced to leave Chechnya) are glossed over. Ending chapters explore Biyarslanov's rivalry with Zsolt Daranyi Jr., his decision to pursue boxing full-time, and his performance in the Pan-Am Games, with a look toward the upcoming Olympics and the future. VERDICT This selection holds a lot of appeal for young sports fans, and its accessible and straightforward storytelling will make it especially tempting to reluctant readers."
–Bobbi Parry, East Baton Rouge Parish School System, LA
Kirkus Reviews
"Spray captures little glimpses of Arthur's young life—stealing fruit from the tree of his next-door neighbor and the old lady who gives him a talisman (a dog biscuit) to ward off jinni—as well as the sadness, lack of language, deprivation, and fear. The story here is of Arthur's gradual rise in the world of sports, first in Azerbaijan and then after the family moved to Toronto, Canada. Spray conjures the strange settings refugees and immigrants find themselves in. 'Hey little man, whatchoo lookin' at anyhow?' asks a tall Jamaican teenage neighbor when Arthur lands in Toronto's St. James Town projects. 'I am no to English,' Arthur replies. 'All be cool. I be no English too…is no big thang.' (Dialogue is not specifically sourced, but a teeny note on the copyright page indicates that Spray relies on extensive interviews.) Arthur is a whiz at soccer but chooses boxing, where he is even whizzier, rising from his first real bout at 12 to the Canadian Olympic team. Readers will marvel at Biyarslanov's resilience and pluck. (Biography. 10-14)"
Click here to read the full review
Quill & Quire
"John Spray – benefactor of the eponymous award – tells the story of 20-year-old boxer Arthur Biyarslanov, who overcame a turbulent childhood, fleeing war-torn Chechnya when he was three, spending years as a refugee in Azerbaijan before arriving in Canada when he was nine, learning two new languages along the way. Now one of the top amateur boxers in his class in the world, Biyarslanov won gold for Canada at the 2015 Pan Am Games (the first Canadian boxer to do so in 40 years), and earned a place at the 2016 Olympics."
Canadian Children's Book News
"John Spray writes an engaging story that pulls us in from the first page…Readers will find themselves cheering for Arthur as he faces one obstacle after another and will enjoy the personal photos that give us an even closer glimpse into the life of this young, ambitious athlete. The book also contains a glossary of soccer and boxing terms…[A] must read for youngsters who are looking for inspiration…"

Read the entire review by picking up a copy of Canadian Children's Book News Fall 2016 issue (Vol. 39 No. 3)
Resource Links
"This is the true story of a young Chechen athlete who, at the age of 20, will represent Canada at the 2016 Olympics in Rio as a boxer.
Arthur Biyarslanov's journey begins on a bridge, where, at the age of three, he witnesses his grandmother and siblings being fired upon by Russian troops nervous that, as Muslims, these Chechens might be armed with explosives. By the time Arthur and his siblings reach their father in Azerbaijan, they are refugees. After his father's death, Arthur and his family face further hardship, deciding to move to Canada in search of a better life.
Life in Canada is somewhat of an improvement but the gritty athleticism and combative nature Arthur developed in Azerbaijan serves him well in Toronto's Jamestown. His skill in soccer helps him win friends and to learn English in a neighbourhood filled with countless foreign languages.
Arthur plays soccer for seven years and leads his team to a U.S.A. cup victory but a broken leg mid-way thorough his soccer career gives him pause and time to consider other sports. Boxing finally wins the day. Arthur also finds a mentor/trainer in Danny Santagato. Danny teaches Arthur how to fight using his brain rather than his temper. The next round – the Olympics – will show how successful this story will be.
Author John Spray is no stranger to either writing or boxing. He sponsors a mystery writing award and has been involved with boxing for most of this life."
—Leslie Little

Read the review in Resource Links October 2016 issue (Vol. 22 No. 1) on page 63
Super Book Boy for Kids' Book Buzz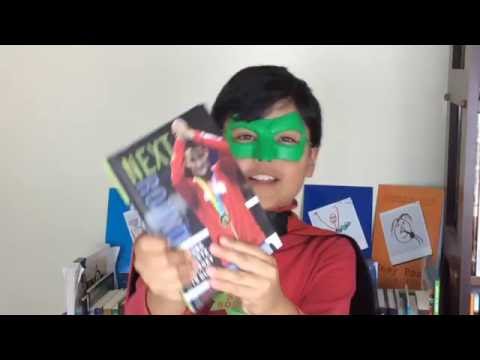 Transcription:
Hello everyone, I am Super Book Boy, and today I have a new book for you. This book is called Next Round: A Young Athlete's Journey to Gold by John Spray. This book is about a Canadian athlete named Arthur Biyarslanov who, after he broke his leg during soccer practice, tried out boxing. Arthur is from Chechnya, and was only three years old during the first Chechen war. He and his family had to escape from Chechnya as refugees to find a better place to live. This is a true story, and also a very exciting one. My favourite character in this book is… Arthur, of course! And my favourite part of this book is when Arthur faced Zsolt, another boxing champion, for the first time. That was a really exciting part. So will Arthur defeat Zsolt in the book? Read the book, and you'll find out!
I give this book FIVE STARS 'cause it was entertaining the whole entire time. I recommend this book to kids who want to be athletes and boxers when they're older, and kids who like action stories and sports.
For now, that's all from Super Book Boy. Hi-yah! Hi-yah! [punching motions]
Dameon Okposio, The DO Boxing Show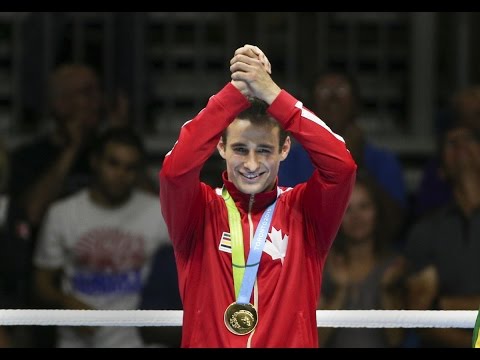 Transcription:

Welcome to the D.O. Boxing show, I'm your host Dameon Okposio and in this episode we're going to be talking about Arthur Biyarslanov's book, Next Round: A Young Athlete's Journey to Gold, written by John Spray. This is a great book, for multiple reasons. Not only is it well-written, but it gets you behind the scenes of who Arthur Biyarslanov is, what it took for him to get to Toronto, and a little bit about his background—who he is as a person. I love human interest stories and I fashion my magazine off human interest stories as well.
[Next Round is] a good read, approximately 104 pages in total. It's got very sharp black and white pictures with a brilliant, colour photo-essay in the middle… It tells you a lot about Arthur, who's very charismatic, but also a quiet kind of guy who works extremely hard. He's one of three Canadian Olympians going to the Olympics into Rio, and the only male to qualify for the Olympics for the country. So he deserves the publicity and the notoriety for going—all three of them do—for representing the country.
As we all know, there's not much coverage of Canadian athletes, much less Canadian boxers, so I think this book is a brilliant, brilliant play…good on you John Spray, good on you Arthur Biyarslanov…This book is a great promotional item and a fantastic idea. Immortalizing yourself in publishing; that's the way to do it.
Get your book. If you haven't got it, it's about $16.95 CAD and when you get it you can get Arthur to autograph it as well. He's a very personable guy. Great book, I'm not going to go into too much about it, because it's worth getting the book and reading about it yourself. But do learn about Arthur Biyarslanov, the only Canadian male to qualify for boxing in the Olympics, as we get underway…August 5th will be the opening ceremonies…All the best to all the athletes, especially the Canadian athletes out there, Ariane Fortin and Mandy Bujold are both favourites for the medal. They're both very talented young ladies. Arthur Biyarslanov too, a very talented young man. I think we might actually be able to break that medal drought we've had in Canada with this very strong squad of three.
If you can pick up the book, it's called Next Round. It's written by John Spray, published by Pajama Press, and is $16.95 CAD. Pick up your copy today.
Sal's Fiction Addiction
"'Arthur looked around the small, two-bedroom apartment in Baku, Azerbaijan, in disbelief. This can't be our new home, he thought, a lump in his throat. There was no yard to play in. There were no fruit trees to climb. He suddenly missed his home in Chechnya very badly. He closed his eyes and saw his happy bedroom, painted blue like the sky, and his toy trucks… '
As we look forward to the opening of the Summer Olympics I wanted to share this story of one of our young athletes, whose journey has been a most difficult one.
John Spray writes the story of the Chechen Wolf, a young Muslim refugee from Chechnya, whose grit and determination won him a gold medal in the 2015 Pan Am Games as a member of Canada's boxing team. It was Canada's first gold medal in boxing in forty years. In interviews with Arthur Biyarslanov, Mr. Spray heard stories of his early life, their escape from Russia, the family's life in a refugee camp in Azerbaijan, and finally a new life in Canada … all before he was nine years old.
The years between leaving Chechnya and moving to Canada were very difficult. His father, a dentist, made little money helping other refugees in Azerbaijan and the family was forced to move too many times. When he died, it became even more difficult for Arthur's mother and her four young children. It led to immigration to Canada, a brand new adventure. Saying goodbye was not easy:
"Arthur knew that he had to leave most of his things behind when this family left for Canada, so he invited all his friends over and gave them his Pokémon cards and all of his toys. His friends were really happy with the unexpected gifts. They shook Arthur's hand, patted him on the back, and wished him luck in Canada. 'When you're a famous soccer player,' the goalie said, with tears in his eyes, 'don't forget your old mates. You get to the World Cup or something, make sure we get tickets.' Arthur promised he'd never forget his little gang of friends, and with a lump in his throat, said good-bye to all his chums.'
The road from then to now, in 2016, was filled with sports of all kinds including soccer, a badly broken leg and a switch to trying his hand at boxing. His skills improved tremendously when he started working with Danny Santagato, who became coach, family friend, mentor and father figure.
'Arthur continued to fight and win tournaments throughout 2008 and entered grade eight on a real high. He was now an upperclassman in middle school and played in the city finals in basketball, volleyball and soccer. On the track team he made the city finals in the shotput, the 800 m run, and 4 x 100 relay. He helped bring to Winchester Senior School six championship banners – the most in the school's history.'
In his final year of high school, Arthur made the difficult decision to give up soccer and make boxing his focus. Early on soccer had provided a place to make new friends, to learn new languages, and to advance his enormous athletic talent. A broken leg proved a mixed blessing when he used boxing to keep up his strength. It was a perfect fit for him. With hard work and dogged determination he became a champion amateur boxer. Right now, he is in Rio to take his place on the Canadian boxing team. What a feat!
Not one member of my family or friends will believe me when I say that I am going to keep my eye out for boxing matches during the Olympic coverage, but I will be…and that is the truth!"
CanLit for LittleCanadians
"The 2016 Olympics are on in Rio and the media will be trumpeting the success stories of many an athlete, but Chechen-born Canadian boxer Arthur Biyarslanov has a story like no other.  And it's a story that John Spray, benefactor of the TD Children's John Spray Mystery Award, tells with inspiration and appreciation in Next Round: A Young Athlete's Journey to Gold.
Arthur Biyarslanov's story begins as a three-year-old escaping with his mother, Alla, twelve- and eleven-year-old sisters Bariyat and Bella, and nine-year-old brother Rustam from their war-stricken village of Gudermes in Chechnya to meet up with his father, Hairuddin, in Azerbaijan.  Facing soldiers with rifles and tanks and grenade-launchers of the Russian forces attempting to seize the Chechen republic was hardly an idyllic childhood for Arthur, affectionately called Borz, Chechen for wolf.  Their harrowing escape reunites the family in the windy city of Baku, Azerbaijan where he and his brother play with a makeshift soccer ball of socks and electrical tape to escape the austere conditions of their apartment and new life amongst strangers.  Soccer becomes Arthur's salvation, helping him to learn the Azerbaijani language and fit in.
After the death of his father, the family deals with their new poverty by moving to even small quarters in a tough neighbourhood where Arthur, the new kid and target of bullies, becomes known as a fearless fighter but competitive athlete.  Though soccer is his sport of choice, Arthur often spars with his brother and sister Bella who were both karate champions, becoming a proficient wrestler, albeit a clumsy one.  And then his mother decides a fresh start is needed for the family and Canada would be it.
In Toronto, Arthur continues with his soccer, making new friends, learning English and becoming even more athletic,  including running and basketball in his many activities, though soccer is still his first love.  But a broken leg at the beginning of Grade 7 and subsequent slow recovery has Arthur concentrating on sports that demand more from his upper-body strength, leading him to boxing.  Though he knows he has lots to learn–he gets beat up regularly at sparring sessions–his brother Rustam knew 'the Chechen Wolf would be a champion boxer.' (pg. 74)
The rest of Arthur's story, peppered with numerous photographs, documents the young man's rise in the boxing ring under the coaching of former Olympian John Kalbhenn and working with trainer Danny Santagato, whom Arthur affectionately calls Uncle Danny. From his first bout in 2008 to a rivalry with Zsolt Daranyi Jr. and having to choose between soccer and boxing, Arthur makes boxing his vocation, training tirelessly, and focusing on getting gold at the 2015 Pan Am games.
John Spray's intent in writing Next Round is heartfelt and clearly evident from his dedication:
For all those children who escaped the horrors of war to find peace and new beginnings…and for Arthur, who replaced the sound of gunfire with the smack of leather on a punching bag.
The purpose of the book is clear but it's John Spray's writing that will capture Arthur Biyarslanov's story better than any colour commentator could ever hope to relay as the boxer reaches for gold at this year's Olympics.  John Spray, who owns a private investigations agency and is great lover of mysteries, tells Biyarslanov's story as the harrowing action story that it is.  From witnessing at age three the massacre by Russian soldiers of  Chechens desperately attempting to flee for Azerbaijan, to the family's escape across the cold water of the Yujniy Gerzel River into Dagestan and Arthur's regular conflicts with the frightening old Azerbaijani woman whose fruit tree he climbs and his contentious boxing relationship with Zsolt, Next Round: A Young Athlete's Journey to Gold is a  gripping story whose next chapter is still untold.
But no matter what the next round in his sport may bring, Arthur's hard work and tireless dedication to boxing will give any opponent he faces a scare when looking into the hungry eyes of the Chechen Wolf. (pg. 100)"
Click here to read more from Helen Kubiw
Save
Save
Save
Save
Save
Save
Save
Save
Save
Save
Save
Save
Save
Save
Save
Save
Save
Save
Save
Save