Posted on August 9th, 2016 by pajamapress
Dameon Okposio of Below the Belt Magazine has posted a timely and supportive video review of Next Round: A Young Athlete's Journey to Gold by John Spray on the DO Boxing Show. Since Arthur is currently competing for Canada in the Rio Olympics, we're pleased to share both Dameon's review and our transcription of it.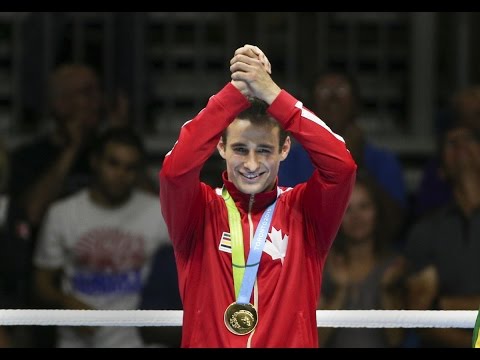 Transcription:
"Welcome to the D.O. Boxing show, I'm your host Dameon Okposio and in this episode we're going to be talking about Arthur Biyarslanov's book, Next Round: A Young Athlete's Journey to Gold, written by John Spray. This is a great book, for multiple reasons. Not only is it well-written, but it gets you behind the scenes of who Arthur Biyarslanov is, what it took for him to get to Toronto, and a little bit about his background—who he is as a person. I love human interest stories and I fashion my magazine off human interest stories as well.
[Next Round is] a good read, approximately 104 pages in total. It's got very sharp black and white pictures with a brilliant, colour photo-essay in the middle… It tells you a lot about Arthur, who's very charismatic, but also a quiet kind of guy who works extremely hard. He's one of three Canadian Olympians going to the Olympics into Rio, and the only male to qualify for the Olympics for the country. So he deserves the publicity and the notoriety for going—all three of them do—for representing the country.
As we all know, there's not much coverage of Canadian athletes, much less Canadian boxers, so I think this book is a brilliant, brilliant play…good on you John Spray, good on you Arthur Biyarslanov…This book is a great promotional item and a fantastic idea. Immortalizing yourself in publishing; that's the way to do it.
Get your book. If you haven't got it, it's about $16.95 CAD and when you get it you can get Arthur to autograph it as well. He's a very personable guy. Great book, I'm not going to go into too much about it, because it's worth getting the book and reading about it yourself. But do learn about Arthur Biyarslanov, the only Canadian male to qualify for boxing in the Olympics, as we get underway…August 5th will be the opening ceremonies…All the best to all the athletes, especially the Canadian athletes out there, Ariane Fortin and Mandy Bujold are both favourites for the medal. They're both very talented young ladies. Arthur Biyarslanov too, a very talented young man. I think we might actually be able to break that medal drought we've had in Canada with this very strong squad of three.
If you can pick up the book, it's called Next Round. It's written by John Spray, published by Pajama Press, and is $16.95 CAD. Pick up your copy today."